Daniela Vega, Star of A Fantastic Woman, Breaks Down Boundaries
Chilean actress Daniela Vega speaks about her role in the groundbreaking Oscar-winning film, A Fantastic Woman, and how she initially navigated her transgender identity. She discusses the importance of music and family in her life. She recently attended the TIME 100 Gala, as she will be recognized as one of 2018's most influential people.
Glenda Jackson Shows Us Not to Stand Down in the Face of Hypocrisy
Glenda Jackson is a modern-day Renaissance woman: two Oscars for Best Actress, a tony nomination, and 23 years as a Labour member of parliament. She discusses the inequalities present as women age compared to men as a member of parliament. She recalls that women were judged first on their appearance and then on their politics.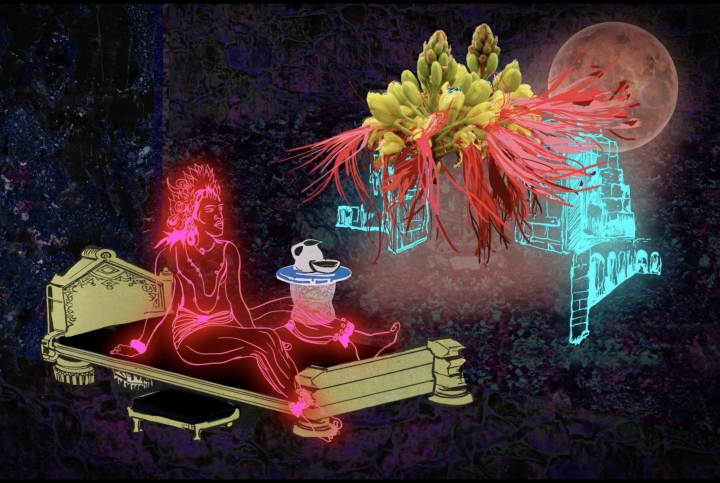 The Gods of Postcolonial Sci-Fi (and Hinduism too)
For Chitra Ganesh, her colorful and subversive interpretations of Hindu mythology have provided an outlet to question the misogynistic power systems and ideologies that permeate Hindu culture. A staple of the New York art scene, Ganesh hopes to give a voice to the power of Indian women through her comic book melodramas, animations, and installations that mix classic Hindu myths with science fiction and feminist theory. Ms. Ganesh's work is currently on display at The Rubin Museum of Art in Chelsea, New York.
Image: Chitra Ganesh, still from The Rainbow Body (2018), digital animation (courtesy of the artist, animated and developed with the STUDIO, NYC.)
Spotify Makes Bold Move On R Kelly and XXXTentacion
In a bold move, Spotify has decided to stop promoting the music of R. Kelly and XXXTentacion. Spotify's move is in response to the allegations of sexual and physical abuse by the two artists, with the #METOO movements joining with the #MuteRKelly, spread by women who were victimized by the artist. Spotify's move serves to emphasize that there is no place in our society for this kind of behavior.
Image: Frank Franklin II/Associated Press
Thanks to Koyama Press, Torontonian comic artist Fiona Smyth will receive her first retrospective collection, which will include out-of-print and old comics, anthology stories, and zines. Smyth's work has been criticized for her bold interpretations of female sexuality and gore, with some calling her work "Anti-Feminist." Despite this, Smyth stands firm in both her feminism and her art work. Smyth's retrospective collection is set to be released in Spring of 2018.