Was the G7 Summit as Feminist as Justin Trudeau Intended?
Canadian Prime Minister Justin Trudeau directed focus to women and girls at the G7 Summit this year, bringing feminist government to the world stage. Rather than focusing on a single issue, Canada emphasized gender equality broadly, making it a significant talking point. While the summit was not entirely transformative, Canada succeeded in focusing the discussion on women to a greater degree than ever before.
Image: REUTERS/Yves Herman
Black Women Demand "Can I Live?"
Living during a time when everyone is not treated as equally as promised by the Constitution, black women ask themselves: "Can I Live?" On Saturday, June 9th, hundreds of people marched through the streets of Sacramento, California as part of the second annual Black Women's March to shed a light on the issues that black women face in society. This event, hosted by Sacramento's Black Women United organization, discussed topics ranging from abuse to undervalue of Black women. To rectify the underrepresentation of women in government, a so-called concrete floor could help ensure women are appointed to positions of power. In addition to instituting quotas, personal pledges from leaders to appoint women to top positions have been shown to produce more balanced representation in government. Once one woman is appointed to a cabinet position, women's presence in top leadership increases sharply.
South Korean Women Protest Spycam Porn
On Saturday, 22,000 women protested on the streets of Seoul, South Korea against spycam porn, calling for the government to crack down on these crimes. Spycam porn involves women being filmed secretly, without their consent, often on public transportation or in pools, supermarkets, and restrooms. The arrest of a 25-year-old Seoul woman, who uploaded a naked photo of a male model without his consent, catalyzed the protest. The woman was investigated immediately, demonstrating the unequal severity with which such crimes are prosecuted when committed by men.
In Spain's New Government, Women Outnumber Men
Spanish Prime Minister Pedro Sánchez announced his new government, in which he appointed women to 11 out of 17 cabinet positions. Sánchez referred to his choices as "pro gender parity and cross-generational." This marks the greatest number of women in Spanish government since it became a democracy in 1978.
Image: Javier Soriano—AFP/Getty Images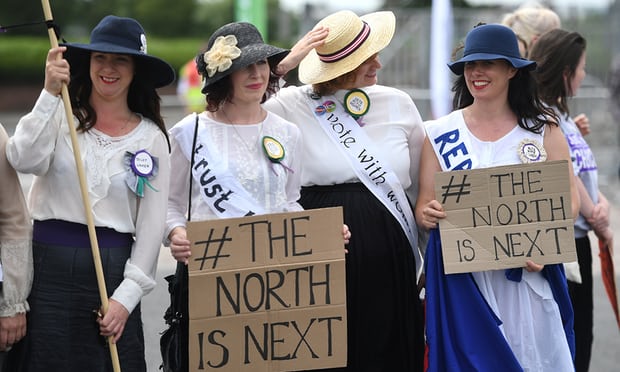 Centennial Celebration: 100 Years of Women's Suffrage in the United Kingdom
On June 10th, 2018, more than 100,000 people took to the streets of England, Scotland, Wales, and Northern Ireland to celebrate 100 years of female suffrage in the United Kingdom. The celebrations consisted of cheering, singing, marching, and chanting to commemorate women obtaining the right to vote in 1918 that recalled the mass marches and demonstrations of the suffragettes. Even though those at the events were celebrating 100 years of women's suffrage, they still admit: "the next step is recognising the equality and the decency of all human beings."
Image: Clodagh Kilcoyne/Reuters