Ocasio-Cortez Revolutionizes Beauty Conversation in Politics
Alexandria Ocasio-Cortez, Democratic congressional candidate, tweeted a response to inquiries about what lipstick she was wearing while debating her opponent, Rep. Joe Crowley. Rather than being indignant, Ocasio-Cortez responded with enthusiasm, writing, "I GOT YOU." Traditional female powerhouse politicians like Hillary Clinton have confronted interviewers by questioning whether they'd ask male candidates about their style and beauty routines. But now, Ocasio-Cortez is bringing these topics to the forefront willingly and enthusiastically, on her own terms.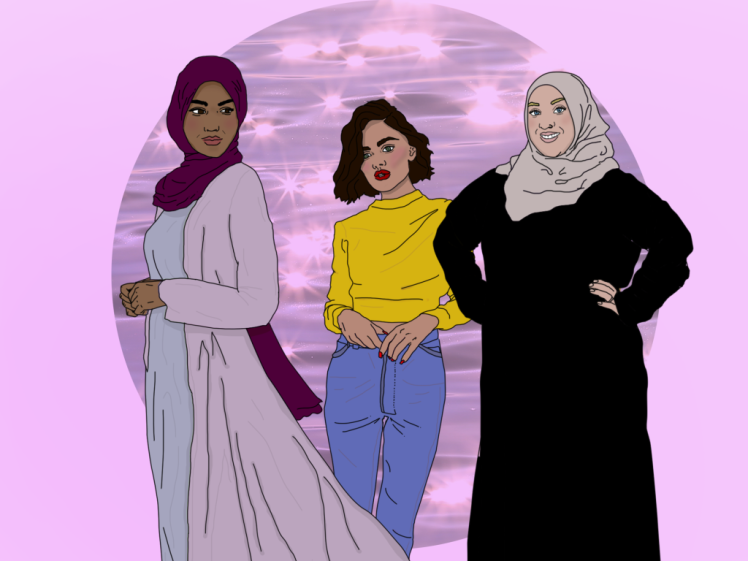 Hoejabi: Rejecting Prescribed Boundaries of Sexuality
Hoejabi, the mashup of the words "hoe" and "hijabi," is primarily used derogatorily to refer to a Muslim woman who wears a hijab but defies the Islamic rules of etiquette and behavior. While the word is used as a slur, or to some a "joke," a young Muslim woman, in an opinion piece for the New York Times, explains how the word can be used as a "positive self-identifying term for women who want to challenge that notion." However, some believe that the slut-shaming nature of the word needs to be address internally while others argue that, given such a platform, the author should have highlighted positive aspects of the Islamic community that are so rarely presented. As of now, the consensus is to refrain from using the word.
Image: Ella Byworth for Metro.co.uk
"Seat At The Table" for Black Women
Recently, the Democratic National Committee (DNC) launched the Seat At the Table Tour initiative for Black women. Despite Black women being the Democratic Party's most reliable voting bloc since the 1990s, the party has been criticized for neglecting the needs of Black women and not properly supporting Black women running for office. This tour, in collaboration with the Congressional Black Caucus and Black women mayors, will consist of listening and training sessions for Black women and aims to "rebuild relationships, restore trust, and strengthen infrastructure within communities to champion Democratic values and build towards electoral victories." The tour officially began on June 16th in Brooklyn by honoring the late Congresswoman Shirley Chisholm, the first Black woman elected to Congress.
Image: JOE RAEDLE/GETTY IMAGES.
Viral Videos Draw Eyes to Female Candidates
Viral campaign videos have brought welcome attention to female political candidates such as MJ Hegar, mom and former Air Force pilot injured by the Taliban in Afghanistan. In her campaign video for Texas Democratic Congressional Representative, Hegar describes the doors she has broken down to get where she is. Viral videos can publicize candidates struggling to overcome hurdles like financial strain or lack of name recognition and allow them to tell their unique stories in appealing ways
Zimbabwean Polity Threatened By "Unruly" Women
Only four of the 23 presidential candidates in Zimbabwe's July 30th election are women. Ms. Thokozani Khupe, vying for the leadership of the Movement for Democratic Change, has faced vulgar insults and songs meant to shame her, which emphasizes a sexist faction of Zimbabwean politics. "Unruly," single, independent African women are often accused of prostitution, a tactic used to discredit women leaders.
Image: Jekesai Njikizana/Agence France-Presse — Getty Images